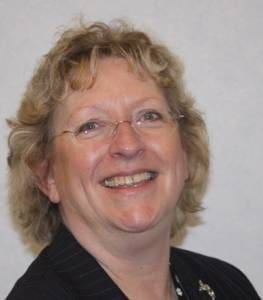 Heather was born in London and brought up in the beautiful Lake District after her parents moved there when she was eight. She inherited her love of reading in general, and the Chalet School in particular, from her Mum.  Her first CS book was Head Girl – also inherited from her mother – and as a child she haunted the local bookshop for the new paperbacks which were being issued at the time. After she joined FOCS she found out that she had missed so much of the story and set about collecting the hardbacks.
As an adult, she made regular forays into WHS to check what Armada had issued that she didn't have. She remembers that her stock line at the checkout desk was 'I'm buying this for a child I know, can she return it if she already has it?' which she feels sure did not deceive them for a moment. After reading all of the books, she was dissatisfied that the stories did not go on. In the end, she decided that she would just have to write some more herself and New Beginnings was born. It was a throw away comment to Ann Mackie-Hunter which led to her sharing the first draft and the rest, as they say, is history.
Heather, who now lives in the Isle of Man, says that the strong moral principles which underpin the CS played a huge part in formation of her own character, from her sense of 'playing the game' to her Christian faith and she could not be happier that other fans have felt that her book was true to what EBD would have wanted.