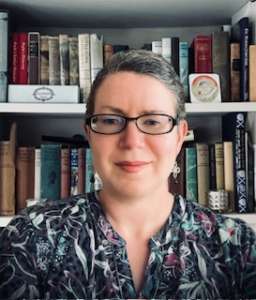 Lisa Townsend was born in Belfast, Northern Ireland, in 1978, and now lives in Bangor, Co. Down, with her rescue Cavalier King Charles Spaniels, Lola, Bambi and Rosie. She has started fostering for Cavaliers in Need, so the canine quota is occasionally greater than this!
At the age of three, she was diagnosed with severe/profound deafness in both ears, and went on to spend the majority of her primary school years in a specialist unit attached to a mainstream primary school. At eleven, she transferred to a local girls' grammar, and remained in mainstream education until the age of fifteen. This allowed her to accompany her family on their eighteen-month Australian sojourn. A year after returning home to the UK, Lisa went to the Mary Hare School for the Deaf in Newbury, and stayed there for four years, leaving school in 1997. She then spent a decade as a student, mainly at the Queen's University of Belfast, collecting three degrees in history and a teaching qualification along the way. Her doctoral work was on the intellectual and cultural interests of women in Ireland, 1750-1850. She works part-time in her father's second-hand bookshop, and part-time as a freelance consultant for local heritage institutions.
An avid reader since the age of seven, Lisa's love of school stories started with an extremely tattered copy of Enid Blyton's First Term at Malory Towers. She encountered The Chalet School Triplets at fifteen and began collecting the series almost at once. 
A high point of 2020 was the unexpected acquisition of a full set of near-pristine Chalet School books, including the original paperback of Rosalie. These are in a glass case to protect them from Bambi who (sadly) devours books in the literal sense. 
 Her first fill-in was A Difficult Term for the Chalet School, published by GGBP in 2011, followed by a number of short stories, and by The Chalet School Returns to the Alps in 2021.