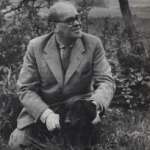 Malcolm Saville was born in 1901 in Hastings, Sussex. He was educated in Richmond Hill School, Surrey. In 1926 he married Dorothy and they went on to have four children, Robin, Rosemary, Jennifer and Jeremy. His working life began at Oxford University Press in 1918, then continued as a publicist with Cassell & Co.(1920–1922), Associated Press (1922–1936), and George Newnes (1936–1941). He was also the associate editor of My Garden magazine, before taking over editorship of Sunny Stories from Enid Blyton in 1954.
Malcolm Saville's first book, Mystery at Witchend, was set in Shropshire and was written when his children had been evacuated to the county from the family home in Hertfordshire. It was adapted for BBC radio broadcast in 1943, and was followed by a further 19 children's books in the Lone Pine series, the last one published in 1978. Several of his 90 books were serialised for broadcast on radio, many on Children's Hour, and his 1953 book The Ambermere Treasure, part of the Jillies series, was serialised by Associated-Rediffusion, the first commercial television company to broadcast in the United Kingdom, in late 1955 and early 1956; it was therefore one of the first ITV children's drama series. Malcolm Saville also wrote many short stories and magazine articles. (For details about which Malcolm Saville titles have been published by GGBP please see All Books ever Published.)
Please note that Marston Master Spy will not be published until April 2022. It would be very helpful if you could order this now.